Liberal Democrats Spring Conference 2011: Sheffield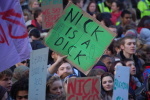 Sheffield City Centre is expected to be turned into a virtual police state between 11th and 13th March as the Liberal Democrats converge on the City for their annual spring conference. The
Sheffield Telegraph reports
that there will be a six foot security fence and the
Sheffield Star has reported
that there will be 1,000 police officers defending the conference with plans to use riot gear and kettling if necessary, at a cost of \xA32 million. The
official conference webpage
links to the
agenda and papers
and
delegates information
. The police have told the media that they are expecting between 2,500 and 3,000 protestors but the number could be much bigger.
Sheffield ConDem Resistance
have produced a
flyer for the weekend
. On Saturday 12th March a protest has been
organised by the SWP's Right to Work campaign
with the support of the
Sheffield Anti Cuts Alliance
with
agreement with the Police
— assemble 11am on Devonshire Green. On
Friday 4th March at noon
there will be a anti-cuts protest outside the Town Hall,
called by UNISON
— this is the day on which the council budget is to be formally set. For past coverage of the protests against the Liberal Democrat / Conservative cuts see the
Sheffield Public Sector Cuts archive
.